Safer and more affordable than a traditional equine MRI—resulting in an immediate, accurate diagnosis in more than 90% of cases.
From pain management to surgical correction, regenerative therapies to injury rehabilitation, we specialize in lameness and rehabilitation.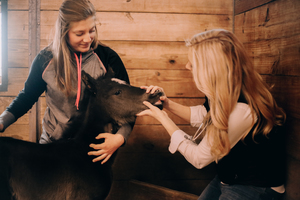 Internal Medicine & Neonatology
Sick horses are no fun. We offer a wide variety of diagnostic and treatment services when something comes up!
Through Oklahoma Equine Reproductive Center, we stand multiple stallions including multi-champion reining horse Whizkey N Diamonds, LTE $224,020, and quarter horse racing futurity winner Im A Fancy PYC si 92, LTE $454,765.
From dewormer, antibiotics and pain management to first aid supplies, joint maintenance and ulcer supplements, we can provide all the treatment solutions and tools you need to keep your equine athlete on track and healthy.